"The importance, originality, dignity and value of
handmade works where neither time nor technology
they affect its essence…"
Have you ever been to an art printing house?
A fascinating place, full of history, where you have the opportunity to observe the work of an engraver and art printer. An ancient profession, unfortunately increasingly rare and little practiced but which still retains the tradition and manual skills that have always characterized it.
Engraved metal plates that retain textures, shades, scratches, groves that, thanks to a process of printing by hand on fine papers and through the use of presses (large machines that have been handed down for centuries), give us back works of timeless charm.
Immersing yourself in this unusual reality is an opportunity for growth and creative confrontation. A brief parenthesis from the frenzy of eveyday life; creativity, slowness, reflection, surprise, unexpected. Fusion of work and passion in its pure form enclosed in a small printing house.
I am Loredana Amenta, I am a Printer-Engraver and… my experience is at your disposal!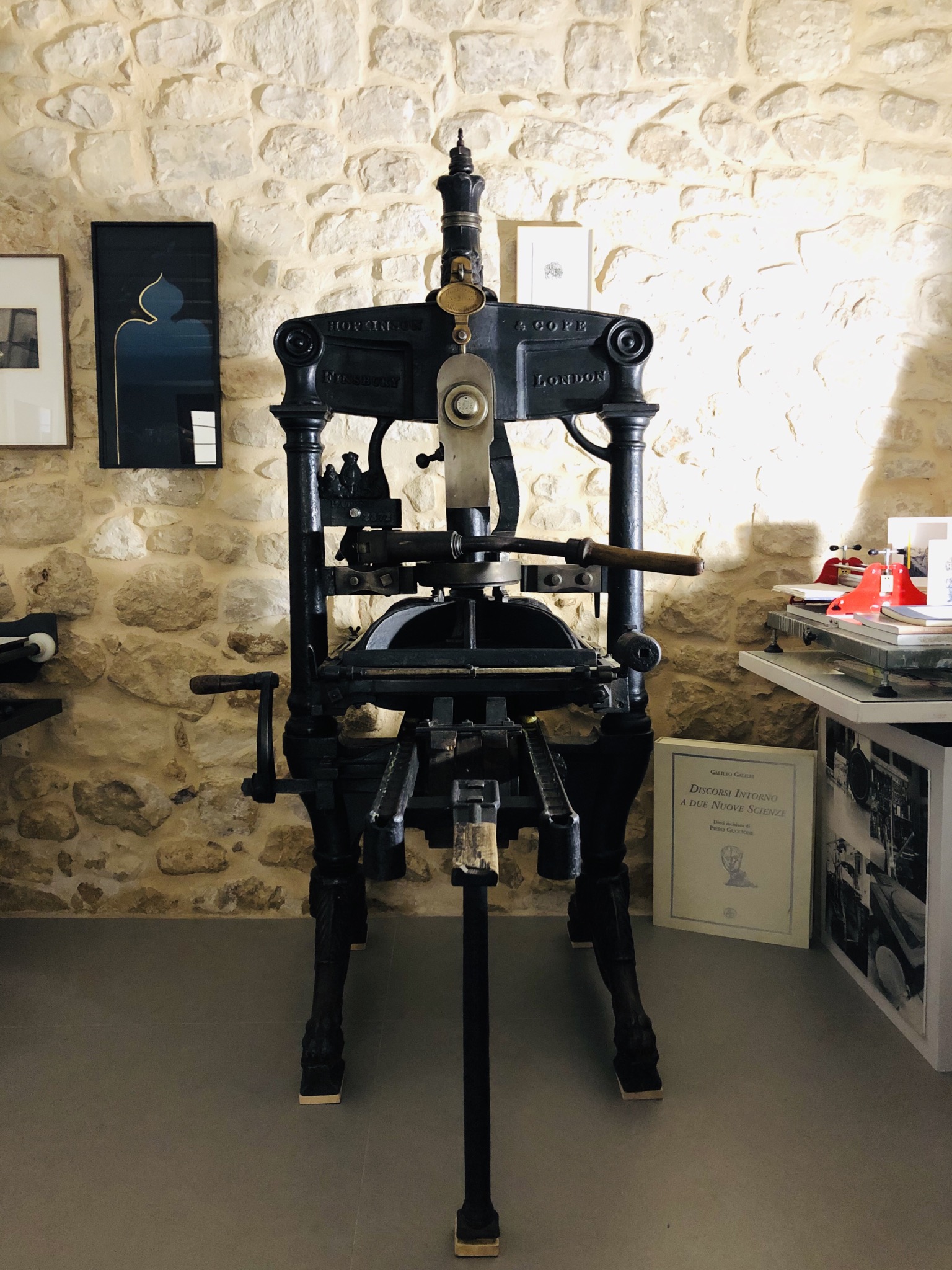 Possible activities vary from the time available; you can choose among the following experience proposals:
1. FRAME EXPERIENCE
PRESS YOUR SCICLI "POSTCARD"
DURATION 1 HOUR
MAX 4 PEOPLE EACH GROUP
COST PER PERSON €48
MATERIALS INCLUDED
A light experience that allows you to savor the reality of the art printing house in a dynamic and creative way. In the atelier, matrices engraved in woodcut or linocut of characteristic glimpses of the beautiful Scicli are available. Thanks to an artisanal printing process, with the mighty Mrs. Albion Press 1846, we will witness the magic of a piece of wood that comes to life on a sheet of paper, rigorously handmade, and that will come away with you, memory of places an passions.
PROGRAMME:
Intro on the technique and brief historical notes
Explanation on the use of the Albion Press
Choice of matrix, paper and ink preparation
Print Phase! We have printed your intaglio work!
Colophon, certification, carpette and… a woodcut will be a tangible reminder of your trip to Scicli!


2.GUTEMBERG EXPERIENCE
PRESS YOUR "POSTCARD" AND COMPOSE YOUR THOUGHT
DURATION 2 HOURS
MAX 2 PEOPLE EACH GROUP
COST PER PERSON €84
MATERIALS INCLUDED
We add the experience "Type" to the experience "Frame"
The work printed in woodcut is enriched by your thoughts. A phrase, an aphorism that binds you to this journey or simply a dedication composed thanks to movable type, just like the great Gutenberg did in 1450. Drawers full of typographical characters to draw from by choosing the body, font and color of your words.
PROGRAMME:
Intro on the technique and brief historical notes
Explanation on the use of the Albion Press
Choose of the matrix to be reproduced
Text composition with movable type in wood or lead
Choice of paper and ink preparation
Print Phase! We printed your hybrid artwork!
Colophon, certification, carpette and… a small jewel will be a tangible reminder of your journey and of your emotions experienced here in Sicily.


And if you are a creative madman who wants to immerse himself in the printing house we will have more time to experiment!

3.FULL EXPERIENCE
ENGRAVE A DRYPOINT
DURATION 5 HOURS
MAX 2 PEOPLE EACH GROUP
COST PER PERSON €120
MATERIALS INCLUDED
The short course, concentraded in a single 5-hour lesson, provides the initial approach to engraving and art printing by focusing on one technique, drypoint. Also suitable for those who have never pratically studied engraving techniques. In fact, during these hours we will face the discipline starting form the basics.
Drypoint is an engraving tecnique of cable printing (Direct Technique). Initially the term indicated the steel tool, but later it also extended to matrices and especially to the prints themselves.
The matrix is directly engraved with a hard and sharp metal tip.
The tip, scratching the metal surface, creates a groove on the edges of which it raises filaments which further retain the ink giving a characteristic velvelty mark to the print.
PROGRAMME:
What does cable engraving mean, historical notes
How to prepare a matrix: chamfering, polishing the matrix with abrasive papers
Preparation of the sketch and transfer to the plate
Beginning of the direct engraving phase/Testing of signs / textures and printing tests
Inking phase in black and white and in color
Printing tests with chalcographic press
Printing phase of some archival copies
Explanation of the drying phase, numbering and signature of the specimens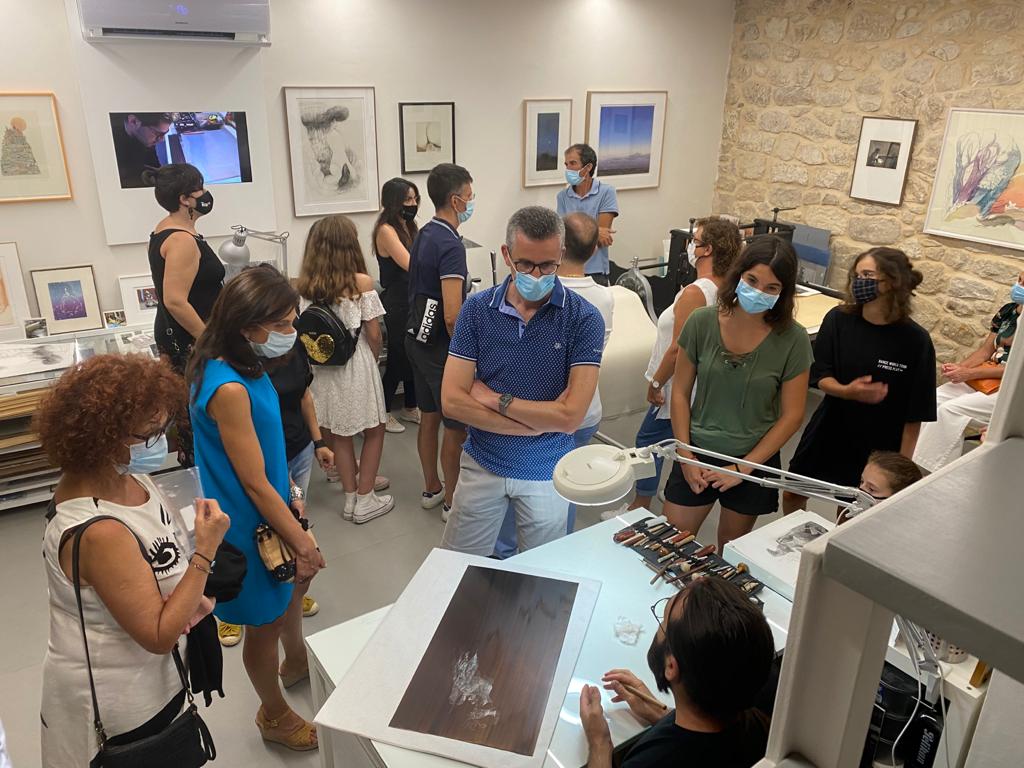 BIOGRAPHY – Loredana Amenta (Scicli 1983).
After the artistic high school diploma at Tommaso Campailla of Modica and a degree in Painting-Cultural Heritage at the Academy of Arts in Catania, she decided to perfect her artistic training by dedicating care and attention to intaglio engraving. She enrolled in the prestigious international school of graphic art "Il Bisonte" in Florence and transformed her curiosity into a true deep passion.
In 2010 she obtained the technical qualification as an engraver and printer. Soon after, she returns to Sicily and devotes herself totally to an almost forgotten technique, detached from the fast rhythms of digital technology and characterized rather by a meticulous, slow, thoughtful research, in which the utmost attention to detail is applied in a time and in a particular place, where the brushes are combined with tips, burins and metal plates. She creates her own printing house, a place where time finally finds its precise dimension.
With passion and technical expertise she dedicates herself to work through continuous tests, research, conception, experiments, failures and then solutions, through mere craftsmanship. In recent years she has collaborated with various artists for the realization of her works first on plate, then on paper. A job that can only be accomplished thanks to a deep alchemy and symbiosis between the printer and the artist.
Today she works in her small printing house in Scicli.
Collaboration with artists: Piero Guccione, Angelo Ruta, Giovanni Robustelli, Giovanni Blanco, Franco Fratantonio, Rosa Cerruto, Giovanni Viola, Carmelo Candiano and others.
Yoast SEO